Jebrak is one of the seven continents of the planet Solcu.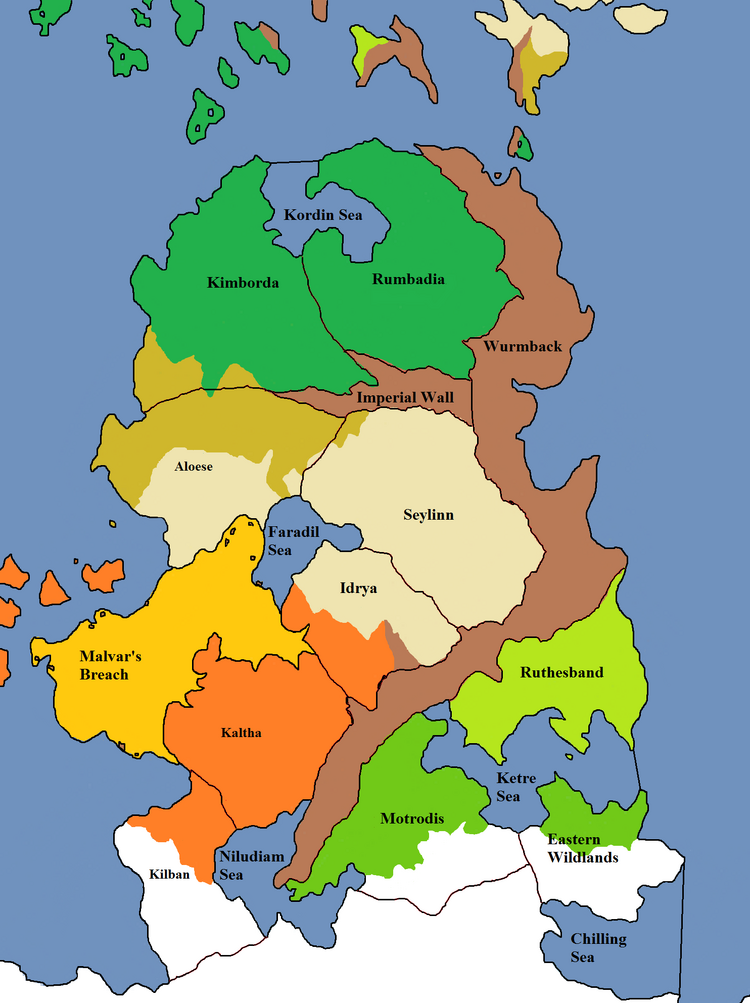 Magma Seas
Edit
The story of Jebrak since the Elven races abandoned it consists of several imperial ages of hundreds of years. In each of these ages one race ruled over most of the continent and enslaved its races. Between these imperial ages there were several dragon ages in which there wasn't enough military strength to fight off dragons and their ravages of the countryside. Various groups of dragons often conspired to keep the nations of Jebrak down so they could extend the dragon ages further.
The goblin empire was born 837 years ago when Julio-Kai and the Goblin Empress betrayed the Mountain King and absorbed his nation, imprisoning him in the cursed prison of the demigods. They would conquer and rule the rest of the continent for the next 687 years until the god Malvar caused the Cataclysm of Rorolark destroying the capital of this empire and most of their military. This would be followed by the most destructive of the dragon ages, because of Malvar's berserker curse. The emperors would be slain 5 years by the escaped Mountain King, bounding their souls to his scales.
This Dragon age lasted 2 decades until two remnants of the empire, the Jungle and Desert section pulled themselves together and reformed the empire. This time instead of a single race ruling over the rest, the Republic promised equality and justice for all, as long as they followed the Ramaldian Sphere. The Mountain king reformed his nation with the mountain goblins, forgetting most of the morals he once held for the sake of achieving godhood. The Eastern Aloese Trade Initiative formed from the merchant nations of Crag Goblins seeking to profit from the Republic sides. When the Berserker curse subsided the Volcanic goblins formed a nation that would later join the republic. The dragons reconquered their ancient capital from the Mountain king and remade the flight market they had before.
The Republic of Jebrak would slowly conquer the rest of the continent and expand to other continents ten years ago.
Creatures
Edit
Ad blocker interference detected!
Wikia is a free-to-use site that makes money from advertising. We have a modified experience for viewers using ad blockers

Wikia is not accessible if you've made further modifications. Remove the custom ad blocker rule(s) and the page will load as expected.